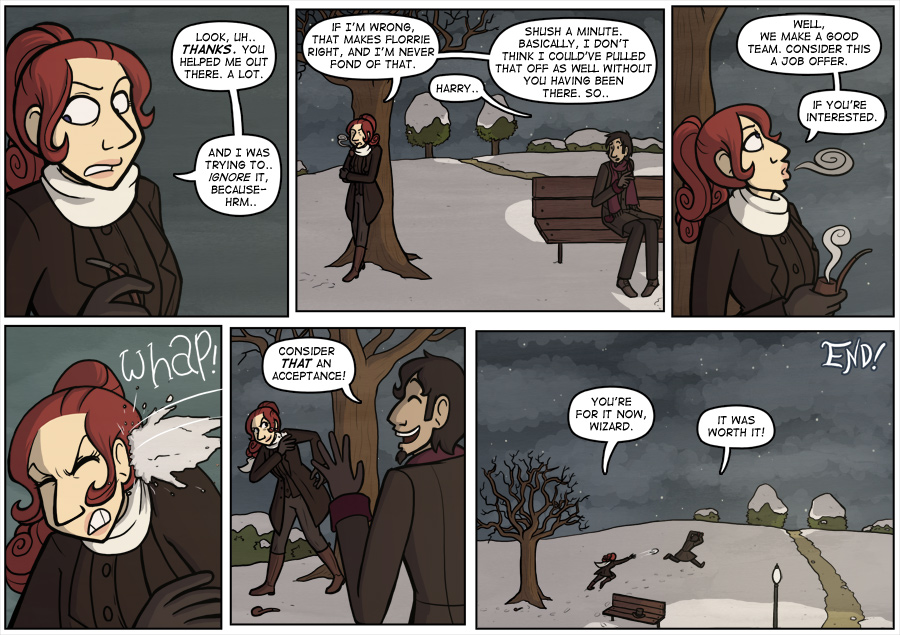 May 24th, 2013 - Read the newspost!
Posted May 24, 2013 at 1:39 pm
And that's the end of our third story! I hope you enjoyed this rather goofy tale, and if you did, I hope you'd consider buying one of the books in the shop, or perhaps dropping a donation into the collection tin, which also gets you a sketchbook pdf! Neat, huh? Check out the donation link to your right, there! So! What's next? Well, for the next few weeks, we're going to be running a slightly-odd version of Puss in Boots that I did for the Cautionary Fables and Fairy Tales anthology! It'll be the only time you can see it online, and I'll be taking it down when it's done, so it's very fancy and exclusive, oh yes. The reason I'm doing this is so I can take a bit of time to get Darken Vol 1 finished, which I've had hanging over my head for two years or so, and I need to get finished so as not to hold up the awesome folk who preordered it for even longer. I want to get it done before I start work on assembling the third Widdershins book, which will probably get a Kickstarter in the summer. So, you've got Monday Wednesday Friday updates of Puss in Boots throughout June, and on July 3rd, the next Widdershins story, Piece of Cake, will begin! No prizes for guessing a thing or two from the title, but I think you'll find it somewhat.. different, all the same. Hopefully this meets with your satisfaction!
Comments
Events

Upcoming Events
MCM London - 27-29th October 2023, Excel Centre

Thought Bubble - 11-12th November 2023, Harrogate Convention Centre